ENLACES
Institucionales
• UPM
• ETSAM
• Departamento
Otros
ENLACES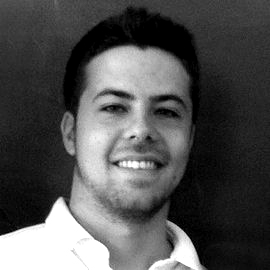 Datos, títulos y puestos
Salamanca, 1990.

Arquitecto
Escuela Técnica Superior de Arquitectura de Madrid (Etsam), Universidad Politécnica de Madrid (Upm), 2014.

Máster en Proyectos Arquitectónicos Avanzados.
Escuela Técnica Superior de Arquitectura de Madrid (Etsam), Universidad Politécnica de Madrid (Upm), 2015.

Doctor arquitecto con mención internacional
Universidad Politécnica de Madrid (Upm), 2020.
Programa:
Estudios Transversales de Arquitectura y Urbanismo.
Tesis doctoral:
Más allá de la cinematografía: en busca de una arquitectura neorrealista en Italia, 194X-195X.
Calificación: Sobresaliente cum laude.

Contrato Predoctoral
Programa Propio Upm, 2016-2020.

Visiting Researcher
College of Environmental Design, UC Berkeley, 2017.

Akademischer Gast
Institut für Geschichte und Theorie der Architektur (gta), Eidgenössische Technische Hochschule (Eth), Zúrich, 2017
Cátedra de Teoría de la Arquitectura, Prof. Dr. Laurent Stalder.

Ricercatore in visita
Accademia Nazionale di San Luca, Roma, 2018.

Contratado Postdoctoral
Programa de contratación de doctores UPM-CAM (Ley de la Ciencia), desde 2020.

Miembro del Grupo de Investigación Paisaje Cultural.
Enlace

Docencia complementaria actual
• Composición Arquitectónica
• Paisaje y Jardín
• Taller de Composición (máster habilitante)
Publicaciones recientes
"Personalising Architecture: the contribution of Neorealism to Italian architecture through the INA-Casa Programme (1949-56)."
Architectural Theory Review, (Sídney), en prensa.

"Il problema dell'alloggio: la contribución de Adalberto Libera a la vivienda moderna en Italia durante la década de 1940."
Cuaderno de Notas (Madrid), nº 21, 2020, en prensa.

"Roma, c. 1955: arquitectura y representación en los márgenes de la ciudad."
ZARCH Journal (Zaragoza), nº 14, 2020, en prensa.

"Beyond filmmaking: searching for a neorealist architecture in Italy, 194X-195X."
The Journal of Architecture (Londres), vol. 24 (4), 2019, páginas 441-468.

"Territorializing memory"
LA+: Interdisciplinary Journal of Landscape Architecture (Filadelfia), nº 8, 2018, páginas 19-26.
Con Rodrigo de la O.

"Architecture as an actor: two post-war cinematic representations of the Quartiere Tuscolano II in Rome."
En AA.VV., Displacement and Domesticity since 1945. Bruselas: EAHN & KU Leuven, 2019, páginas 205-216.

"At the corners of the Italian dopoguerra."
En AA.VV., TRANS 29: Ecke, edge, angle. Zúrich: gta Verlag - ETH Zürich, 2017, páginas 156-161.
DOCUMENTOS
Publicaciones y
trabajos académicos
en el Archivo Digital
UPM